Round Rock Texas Varicose Vein Treatment Center Opens in 2016
Austin Vein Specialists now has a 2nd location serving central Texas residents. This location has opened at 7700 Cat Hollow Drive, in the Synergy Building, in Round Rock, Texas. "We decided to expand the service area of Austin Vein Specialists due to the repetitive requests by our patients that reside north of Austin," reports Dr. Gotvald, who is the medical director of Austin Vein Specialists. "Although for years our patients have been willing to commute from Round Rock Texas and Georgetown Texas to see our vein specialists, many of our patients reported that it was rather inconvenient for them to travel such distances to get their vein procedures performed," reports Dr. Gotvald. "With the ever-worsening traffic situation in Austin, people are less willing to spend their precious time sitting in the car in bumper-to-bumper traffic.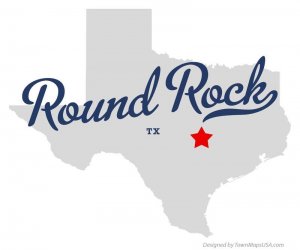 We were therefore getting multiple requests daily to open a clinic in Round Rock Texas or Georgetown Texas," states Dr. Gotvald. "These regular requests for a local vein specialist in Round Rock Texas were not only coming from patients, but from many primary care physicians, nurses, and physician assistants as well," Dr. Gotvald explains. "Up until now, there have not been any vascular surgeons practicing in Round Rock Texas that focus their attention on venous disease management, in particular the management of varicose veins, spider veins, and blood clots," reports Dr. Gotvald. "The only physicians that have been offering any vein services in this area of Texas have been radiologists, but there have not been any Vascular Surgeon / board-certified Vein Specialists available for patients to see. There was, therefore, a huge void in the availability of comprehensive Vein and Vascular Care for the local residents of Round Rock, Texas, unless they were willing to drive a significant distance," states Dr. Gotvald. "With the opening of Austin Vein Specialists of Round Rock, there is now a place that local residents can conveniently seek care for their leg vein problems and their circulation problems," reports Dr. Gotvald. "And they will now feel confident that they will be seeing the most qualified physician available to treat their venous disease." "At Austin Vein Specialist of Round Rock, you can be assured that you will be seen by a board-certified vein physician at every visit," states Dr. Gotvald. "Many other clinics in Round Rock that advertise that they offer vein therapies do not provide the type of one-on-one physician care that I think is important. Rather, they typically have a nurse or physician assistant do the evaluation or treatment. If I were a patient, I would prefer that the physician be the one making the recommendations and performing my treatment. I take a hands-on approach at Austin Vein Specialists, where every patient is seen by a board-certified physician at every visit and every single vein treatment is performed by the physician," states Dr. Gotvald.
Board-Certified Vein Specialists of Round Rock Texas
Unlike many other clinics that advertise themselves as vein centers, Austin Vein Specialists of Round Rock is managed by a board-certified Vascular Surgeon and Vein Specialist. Dr. Gotvald has over 15 years of experience. Joel Gotvald, MD, FACS, RPVI is board-certified in Vascular Surgery by the American Board of Surgery and the American Board of Medical Specialties. He is also certified in Phlebology by the American Board of Venous & Lymphatic Medicine (ABVLM) and is board-certified in General Surgery by the American Board of Surgery as well. His double board certification makes him one of the most highly-trained vein specialists in Texas. Dr. Gotvald also has credentials in vascular and vein imaging, with a focus on ultrasound imaging and angiography/venography. He is nationally certified as a Registered Physician in Vascular Interpretation (RPVI) by the American Registry of Diagnostic Medical Sonographers (ARDMS). Dr. Gotvald is a distinguished member of the Society for Vascular Surgery and is a fellow of the American College of Surgeons (FACS).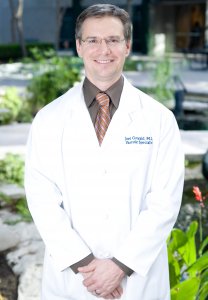 Personalized Care By a Physician at EVERY Visit
Unlike many other vein clinics in central Texas, at Austin Vein Specialists of Round Rock, you will always be seen and treated by a board-certified physician at every visit. At many other facilities, a nurse or physician assistant performs patient evaluations and often even performs the treatments. This is not the case at Austin Vein Specialists. You will always be seen by the same board-certified vein specialist at every visit. This physician will do your physical examination, review your imaging study, make a treatment plan individualize for you, and also perform your treatment(s).
Modern State-of-the-Art Therapies
At Austin Vein Specialists of Round Rock, we offer all of the modern therapies available for the treatment of varicose veins and spider veins. We are able to take care of your venous issues, no matter how severe they are. Options include surface therapies, such as laser therapy or sclerotherapy for spider veins. Varicose vein treatment options include catheter-based endovenous ablation therapies such as the Venefit ClosureFast Procedure, EVLT EndoVenous Laser Therapy, Clarivein Procedure, VenaSeal Procedure, and Varithena Chemical Ablation. Other varicose vein treatment options include micro-phlebectomy and ultrasound-guided sclerotherapy/foam sclerotherapy. Which treatment options are best for you will depend on the anatomy of your particular venous condition. This will be determined by our physician.
Exceptional Results
At Austin Vein Specialists, we strive for the complete satisfaction of every patient through exceptional care. This is demonstrated by our consistent 5-star ratings and high patient satisfaction scores. Healthgrades.com, a website that tracks the quality of physician care, ranks our physicians with the highest ratings available to healthcare providers.
How to Make An Appointment
Call our Round Rock Vein Center at (512) 994-9108 or use the "Contact Us" form on this website to arrange an appointment with our Vein Specialist. We offer a free no-obligation consultation for the evaluation of varicose veins or spider veins of the legs.