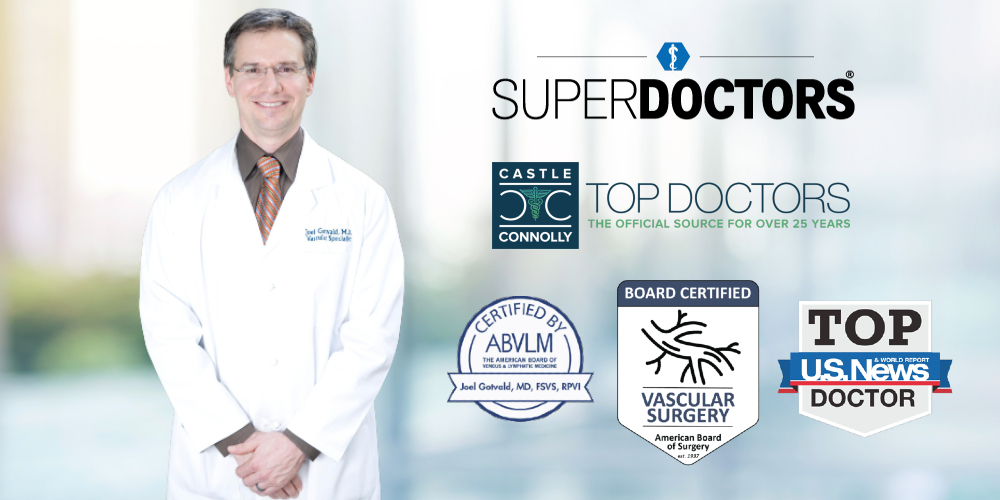 Vein Specialists – What Defines Us?
What defines vein specialists is the most important question that a healthcare consumer should ask before they begin looking for a physician to treat their vein condition. The more informed that you are before you seek a healthcare professional, the more likely that you are to locate the most qualified doctor to provide your care. And this translates into the best possible treatment outcome with the least chance of complications.
Surprisingly, in the United States, there is no true oversight in who is allowed to perform vein treatments and who is allowed to advertise themselves as "vein specialists" or "vein experts." In other words, a physician with little or no vein education, vein training, vein certification, or experience in the diagnosis or treatment of vein diseases can be allowed to set up a vein clinic and advertise that they are qualified to treat vein diseases. Even non-physicians, such as physician assistants and nurses, can also do the same. A physician does not have to have to be board-certified in vascular or have any proof of training in the field of vein diseases and can still be able to offer such services to the public. For this reason, there are many "vein clinics" and "vein centers" that are established and directed by people who are not board-certified vascular physicians.
This lack of oversight has unfortunately led to vein clinics popping up on every corner of town in America. . . leading to the running joke in the medical community that they are more popular than Starbucks! These clinics are being opened by many types of physician that may not have any prior background or formal university medical education in the field of vein surgery. Many of these clinics are established by radiologists, dermatologists, heart surgeons, and family practice doctors among others.
So what defines each physician specialty? How do you know if you are choosing the physician best qualified to treat you? The most simple way is to look at medical definitions. Radiologist = X-ray Interpretation. Dermatologist = Skin Care. Cardiac Surgeon = Heart Operations. Family Practice = General Health Care. Vascular Surgeon = Vein & Artery Specialist. The definitions speak for themselves. But the best way of truly understanding what actually defines a vein specialist is described below.
So what really does define a vein specialist? How do you know if you are seeing a healthcare provider with the appropriate level of knowledge to properly diagnose and treat your vein condition? The answer is that you have to research their background and determine whether they have gone through the highest levels of vein education and training and received the appropriate levels of experience & certification. The level of Vein Education, Vein Training, Vein Certification, and Vein Experience of the physicians are the main factors that determine who are true experts in the field of vein care.
Education
Vein specialists (i.e. vascular surgeons) have performed at least 11 years of formal medical education at a University Medical Center, with 7 years of that training involving residency & fellowship training in surgery & interventional procedures. This ongoing training process allows the vein specialist to have extensive background knowledge of what leads to vein diseases, the underlying anatomy and pathological processes, and the best methods to go about treating vein conditions. And it ensures that they have the level of competence required to provide the appropriate quality of care. Required ongoing continuing medical education in vein disease is also required.
Training
A vein specialist has had 7 years of formal hands-on surgery training, performing surgeries and procedures on the veins on a daily basis during that time. This long training period allows the vein specialist to become experienced in every aspect of vein interventions. This includes learning all aspects of vein surgery, vein catheterization procedures, laser vein procedures, injection procedures such as sclerotherapy, and ultrasound-guided procedures. By the end of this training process, a vein specialist has done thousands of vein interventions & surgeries under expert supervision by the best vein doctors in the world.
The initial phase of vein training, which follows medical school, involves 5 years of Medical University Training, known as surgery residency. The second phase of vein training involves an additional 2 years of Medical University Training in Vascular Surgery, known as a Vascular Fellowship. The term "vascular" refers to the blood vessels of the circulatory system (the veins and arteries).
Certification
Once the above 2 phases are completed, a vein specialist must then prove to the medical community and the medical boards that he/she has been able to absorb all of this knowledge and is able to successfully apply it to everyday clinical practice. This is known as the certification process. The first requirement for the vein specialist to obtain certification is to acquire the national RPVI credential, which stands for "Registered Physician In Vascular Interpretation." One must perform and interpret thousands of vascular imaging studies to be prepared for this certification. This certification reflects an expertise in the performance and interpretation of vascular ultrasounds and vascular radiological studies. The RPVI requires documentation of extensive clinical experience in performing vascular exams accurately. It also requires a passing score on a lengthy written examination.
Once the RPVI certificate is acquired, then vein specialists can attempt to obtain board certification in vascular surgery. This is done through a 2-day examination process, combining both written and oral testing. A counsel of highly-respected vascular surgeon peers requires a high level of achievement on the written exam and on the oral exam in which patient care scenarios are tested over several hours. If the physician passes these examinations, he is granted Board-Certification in Vascular Surgery by the American Board of Surgery. A vein specialist often proceeds to an even higher level of certification by applying to become a Fellow of the American College of Surgeons, the highest level of honor that can be achieved by a vein specialist. This certification is abbreviated "FACS." Only the top vein surgeons in the country achieve this honor. Following achieving the FACS designation, one can apply for the prestigious "FSVS" designation through the Society for Vascular Surgery. Dr Gotvald was granted this award following the successful completion of his Vascular Fellowship. Only a select group of Vein Specialists achieve this prestigious "FSVS" designation.
Any type of doctor can also apply for diplomate status through the American Board of Venous & Lymphatic Medicine (ABVLM). This process allows any qualified physician to obtain a written certificate in the field of venous & lymphatic disease by taking a 4 hour written phlebology exam. A physician does not have to be board-certified in Vascular Surgery to take this exam. If the exam is passed, then one can become a diplomat of the ABVLM.
Experience
So as you can see above, a vascular surgeon already has 11 years of medical education before he is able to begin independently providing vein care to the public as a vascular surgeon. The next question is how many years the vascular surgeon has been in private practice since completing in his or her fellowship. That will obviously vary from physician to physician. Our vascular surgeon, Joel Gotvald, MD, FACS, RPVI, completed his vascular surgery fellowship in 2006 and has been actively practicing as a vein specialist for the past 16 years.
The extensive specialized training of vascular surgeons allows them to be able to provide every possible treatment option available, tailoring specific treatments to the individual patient. This is very different than any other physician who provides vein services. Another physician may only be able to offer one vein treatment but not the dozens of other vein treatments available. In other words, the vascular surgeon has all the tools in his toolbox. Would you want a mechanic working on your failed transmission with just a flat head screwdriver? This is analogous to going to a dermatologist to fix your vein condition when the only vein treatment he offers is sclerotherapy. What about endovenous laser therapy, stab phlebectomy, radiofrequency ablations, or ultrasound-guided treatments? Each individual patient with a vein disease has a specific anatomical vein condition that needs a specific therapy to correct it properly. Unless you have all the treatment options at your disposal, the condition will often times not be treated correctly. And this increases the chances of treatment failure, recurrent problems, or even complications.
What About Austin Vein Specialists?
Dr. Joel Gotvald, MD, FACS, FSCS, RVPV, ABVLM
1) Education: Dr. Gotvald graduated Summa Cum Laude and completed his MD in 4 years. He performed his education at Baylor University Medical Center, Baylor Heart & Vascular Hospital, University of Texas Houston Medical Center, and the University of Alabama Birmingham. He received high academic honors and did medical research during his education in the Honors Research Program.
2) Training: Dr. Gotvald completed his Vascular Surgery Fellowship at Baylor University Medical Center & Baylor Heart and Vascular Hospital, one of the top vascular training programs in the country. Dr. Gotvald completed his General Surgery Residency Program in Houston at the renowned UT Houston Medical Center Complex and St. Josephs Hospital (Now Houston Methodist).
3) Certifications: Dr. Gotvald is double board-certified in both Vascular Surgery by the Vascular Board of the American Board of Surgery & in General Surgery by the American Board of Surgery (ABS). He has achieved his certificate of RPVI (Registered Physician in Vascular Interpretation). As one of the top vein specialists in the country, he has the highest honor of being a Fellow of the American College of Surgeons (FACS). He is also certified as a Fellow of the Society for Vascular Surgery (FSVS), the highest honorary for vascular surgeons in the United States.
After becoming a board-certified Vascular Surgeon and obtaining his FACS, FSVS, & RPVI, Dr. Gotvald then focused further on additional academic efforts in the field of venous disease management. As a result of this commitment to vein disease management, he went on to obtain an additional certificate in Phlebology through the American Board of Venous & Lymphatic Medicine (ABVLM). He has been granted Diplomate status through this medical board.
Dr. Gotvald has the highest level of certification for vein specialists. Only a few distinguished physicians worldwide have all of these certifications in the field of vascular disease management, with Dr. Gotvald being recognized as MD, FACS, FSVS, RPVI, and ABVLM certified.
4) Experience: Dr. Gotvald has been performing vein surgery and interventional vein treatments since 2001. He completed his fellowship in vascular surgery and became a certified vein specialist in 2006. He has been active in clinical practice since that time. Dr. Gotvald has always maintained active staff privileges at the local hospitals of Central Texas. He also serves the medical community in Austin through his Center of Excellence in Vein Care. He provides the latest state-of-the-art vein care in the treatment of varicose veins and spider veins and other vein diseases. On a monthly basis, he also serves as a vascular & vein consultant for the St. David's and Ascension Seton Hospitals in Austin, Texas. He also provides hospital emergency room call coverage when vascular emergencies arise that involve serious artery and vein conditions.
For a one-on-one consultation with one of our Board-Certified Vein Specialists, please call (512) 220-5401.  You can find our business link on LinkedIn and Faceboo