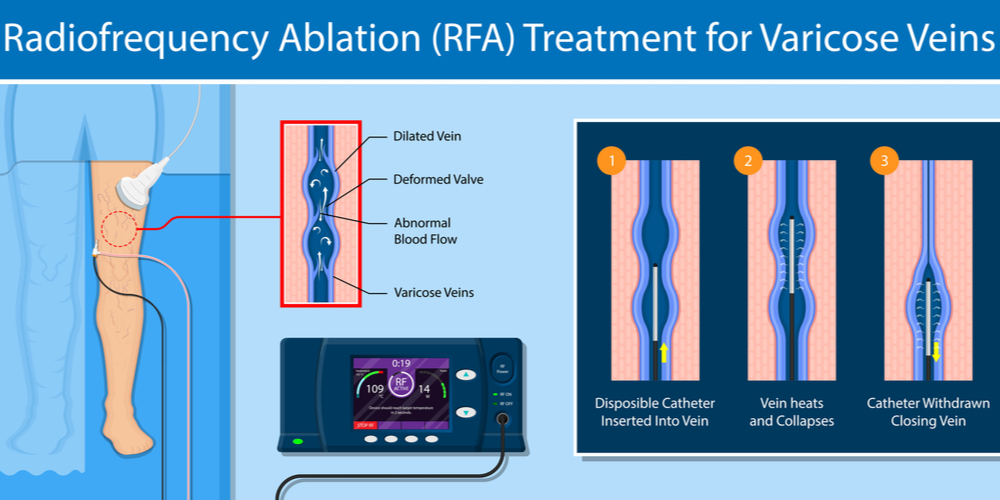 What is Radiofrequency Vein Ablation?
Radiofrequency Vein Ablation also referred to as the VNUS Venefit Procedure or the ClosureFast Procedure is a revolutionary new treatment for varicose veins that utilizes a new technology known as radiofrequency ablation to safely remove varicose veins from the legs. It is a modern alternative to traditional surgical procedures that were used to removed varicose veins in the past. VNUS Venefit utilizes a small radiofrequency catheter that delivers electrical energy in the form of radio waves directly to the vein wall in order to ablate the varicose veins. The technology was invented by the company Covidien, which is focused on expanding new vein treatment technology. The radiofrequency ablation of varicose veins typically involves a 30-minute outpatient procedure performed at one of our Austin Vein Centers.
How is Radiofrequency Vein Ablation Performed?
Only local anesthesia with Xylocaine is needed for this quick and safe procedure. During radiofrequency vein ablation, an ultrasound is utilized to help deliver the radio-wave energy to the varicose vein in a focused fashion. The veins then collapse as a result of the radiofrequency energy. The blood that was in the diseased veins is immediately and automatically re-routed to the other healthy veins in the legs. Results are seen almost immediately. The majority of our patients report only minimal pain associated with the procedure. See the video below for a more detailed description and animation of the procedure.
The Latest Advances in Varicose Vein Treatments
At Austin Vein Specialists, we take advantage of this latest FDA-approved Venefit technology to treat many of our patients with varicose vein disease. In the past, most such patients with varicose veins required invasive vein surgery, such as vein stripping and vein phlebectomy, to cure them of their varicose veins. With this new VNUS radiofrequency technology, the veins can usually be removed non-surgically. This typically allows the patient's to avoid surgery, scars, and prolonged recovery times. Also, the risk of procedure complications is minimized with the use of this new modern technology. VNUS Venfit vein ablation, along with EVLT laser therapy, has become the most common treatment in the US for varicose veins and saphenous vein reflux. It has been proven in medical studies to be very safe and effective and it is now considered the preferred method of treating varicose vein disease.
Recovery & Results After the VNUS Venefit Procedure
Following VNUS / Venefit, patients can typically return to relatively normal activities immediately, although exercise and other strenuous activities should be avoided for 7 to 14 days to improve the efficacy of treatment. Compression stockings or support bandages may need to be worn for up to 2 weeks after the procedure, based on the recommendations of your doctor. Most patients experience some degree of mild bruising and some may experience some mild discomfort at the treatment sites.
Since bruising of the skin and further shrinkage of the varicose veins may occur, it can take several weeks before the true results of VNUS / Venefit are visible. The procedure has a 95% success rate in ablating the treated veins. Most patients are satisfied with the results of this procedure. Some patients desire additional therapy, including sclerotherapy, to achieve the desired cosmetic result that they are looking for long-term.
Although VNUS / Venefit is a safe procedure that has been successfully performed by physicians for many years, there are certain risks and side effects associated with any medical procedure. During your consultation with our doctor he will discuss these possible side effects with you and answer any other concerns that you may have about the vein procedure.
Candidates for the VNUS / Venefit Procedure
Most patients with varicose veins are good candidates for the radiofrequency ablation procedure, although the procedure should not be performed on pregnant women or patients who have had a recent history of blood clots. An ultrasound of your leg veins is typically performed to determine if you are a good candidate for this vein treatment. If you are interested in the Venefit ClosureFast radiofrequency vein ablation procedure or other vein treatments and live in the Austin, Cedar Park, Lakeway, Pflugerville, or Round Rock area, please call or email us today to schedule a consultation.