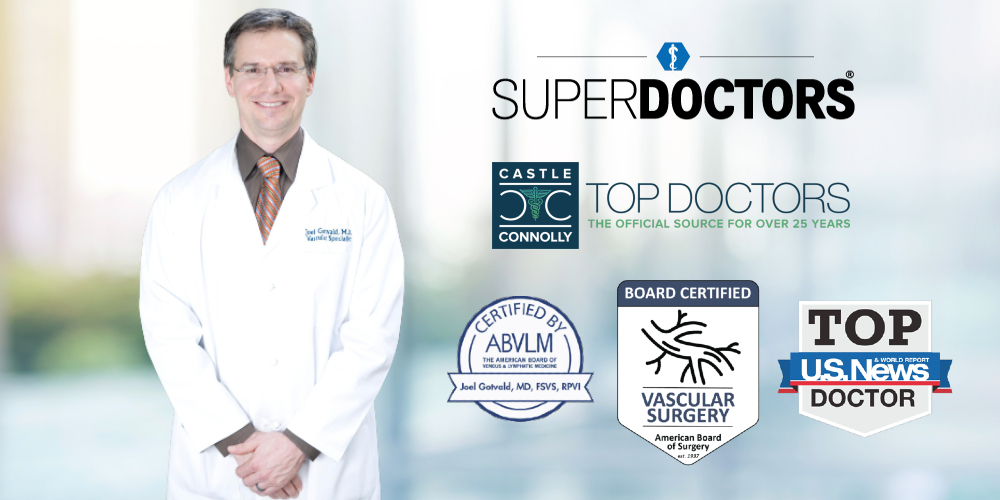 Why Choose Our Vein Clinics?
There are many features that distinguish our vein clinics from other local offices that perform vein treatments. Many locations that perform vein treatments often do vein procedures as one of many service lines, rather than specializing exclusively in vein diseases. Examples include medical spas, dermatology offices, radiology offices, and cardiologist offices. Unlike those scenarios, we are a specialty vein clinic that focuses exclusively on vein diseases. As a result, Austin Vein Specialists only utilizes vein surgeons and vein specialists that are board-certified by the American Board of Surgery (ABS) and the American Board of Medical Specialties (ABMS). Below you will find a list of attributes that makes Austin Vein Specialists distinctive and why we feel that our vein clinic is the most qualified to treat your vein condition.
Vein Clinic Features:
Our vein clinics are managed by board-certified Vein Specialists who are certified by both the American College of Surgeons and the Vascular Board of the American Board of Surgery. Our board-certified vascular surgeons/vein doctors perform all of our evaluations and treatments.
Our vein specialists are both residency and fellowship-trained as vascular surgeons. Our vein specialist doctors received their vein training at the best medical universities in the nation. Therefore, you can be assured that the most highly trained and qualified vein physicians will be caring for you.
At Austin Vein Specialists, you will always be seen and examined one-on-one by our board-certified vein physicians, not just by the physician assistants or nurse practitioners.
Dr. Gotvald, our founder and director, has been a medical doctor (MD) for over 24 years and has vast experience with vein disease management. He is a Fellow of the American College of Surgeons (FACS) and a respected fellow in the Society For Vascular Surgery (FSVS), the highest honorary achievable by a vein surgeon. He has treated thousands of patients with vein diseases, including hundreds of healthcare workers in the Central Texas region.
Our doctors and clinical staff perform all of the latest state-of-the-art vein procedures, including laser procedures, radiofrequency treatments, VenaSeal, Varithena, Clarivein, EVLT, ClosureFast, foam sclerotherapy, Ohmic thermolysis, and ultrasound-guided therapies.
Our vein centers have all of the available top-quality vein imaging equipment, including high-definition ultrasounds, the AccuVein device, the Christie VeinViewer device, the Syris V600 Subsurface viewing device, and the Veinlite device.
Our vein clinic staff are required to maintain the highest level of training and certification that can be achieved as a vein center of excellence. Our physicians maintain the national RPVI credential (Registered Physician in Vascular Interpretation) and our vein ultrasound technicians maintain the national RVT credential (Registered Vascular Technologists).
We operate out of a brand new modern state-of-the-art facility with the latest equipment and technologies.
We accept all major insurance plans, including but not limited to Blue Cross Blue Shield, United, Cigna, Aetna, Humana, Ascension Smart Health, & Oscar Health. We also happily accept Medicare. We will diligently work with your insurance company to help get your evaluation and treatment covered by your insurance carrier.
We offer a no-obligation initial physician consultation for the evaluation of varicose veins and spiders of the legs.
We have extremely high patient satisfaction ratings due to our dedication to quality care.
We have a friendly and compassionate staff that goes out of their way to make your healthcare experience a pleasant and efficient one.
We have excellent patient outcomes and as a result, we are very highly rated by Healthgrades.com.
Our doctors have received multiple awards related to high-quality vein care, including the Patients' Choice Awards, the Compassionate Doctor Awards, Healthgrades Recognized Doctor Awards due to five-star ratings, US News & World Report recognition, and the Austin Monthly magazine Top Doctor Award. Texas Monthly voted Dr. Gotvald the Top Vascular & Vein Specialist for 2020 and 2021.
If you are interested in making an appointment at one of our vein clinics, please call (512) 220-5401. We have convenient locations in Austin, Round Rock, and Cedar Park, TX