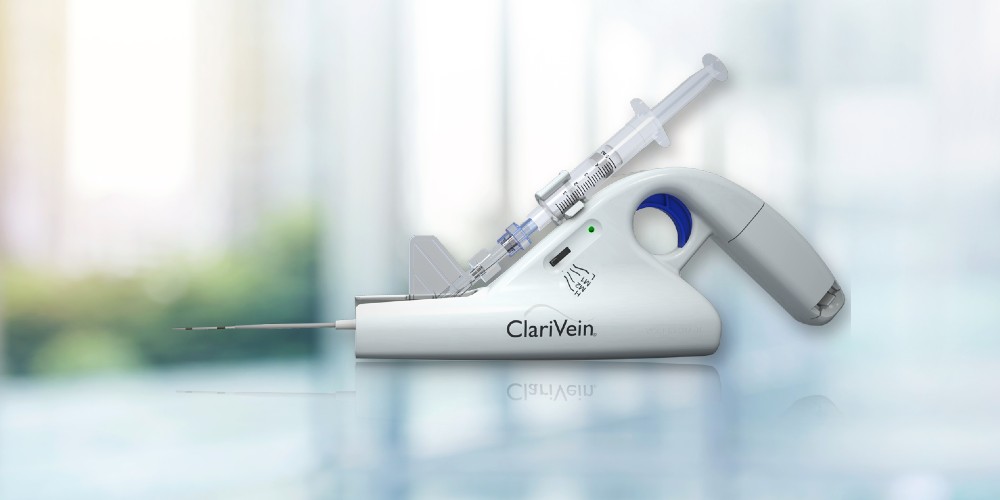 Clarivein
The Clarivein procedure is a unique office-based procedure that is used to treat varicose veins of the legs and venous reflux disease of the legs. Clarivein utilized a patented specialty catheter that disperses infused medication into abnormal leg veins. The reason that this treatment is very unique compared to other methods of infusing vein medications to treat varicose veins is that it utilizes a 360-degree rotating tip at the end of the catheter that has been proven to increase the effectiveness of the action of the drug by better dispersion and mechanical disruption of the vein endothelium. The Clarivein procedure helps to ensure the most complete absorption and disappearance of leg veins, increasing patient satisfaction and decreasing the recurrence of varicose veins. It does this through a system that promotes controlled dispersion and effective coverage of an infused sclerotherapy drug. Unlike other varicose vein therapies that utilize thermal energy to close veins, such as EVLT laser therapy and radiofrequency ablation therapy, the Clarivein system does not require heat energy to treat the veins. By avoiding the use of thermal energy, there is no risk of heat damage to adjacent structures such as leg nerves or the leg skin.
The Clarivein procedure is performed in a vein specialist's office and it does not require the administration of anesthesia. The vein treatment is performed through an IV and takes less than one hour time. A slim thin catheter is inserted into the abnormal vein to treat it. Ultrasound is used to precisely place the catheter and to guide the treatment. Research studies on Clarivein report up to 74% less pain compared to other varicose vein treatments and allow for rapid return to normal activities.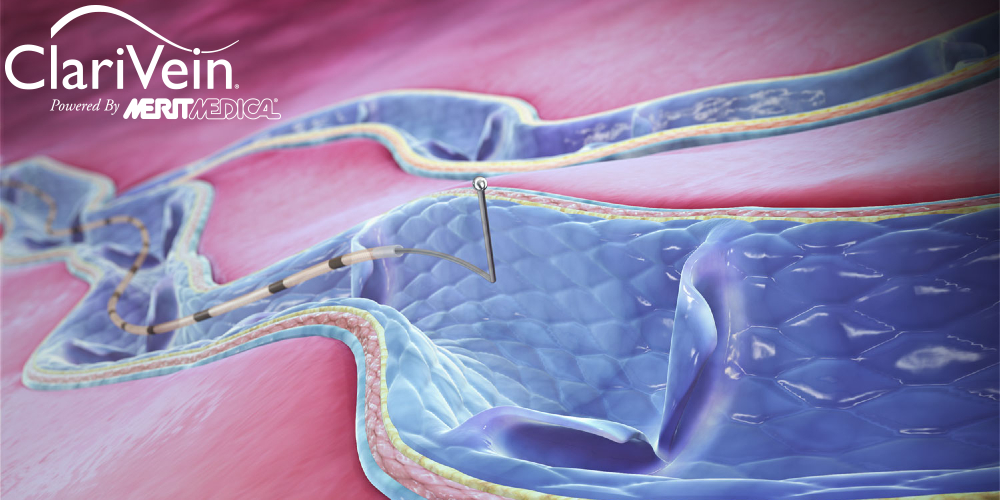 Learn More About Clarivein
The Clarivein procedure is considered to be a very safe procedure. Over 40,000 of these procedures have been performed worldwide, with a very low complication rate. There tends to be less discomfort, less bruising, and a faster return to normal recovery compared to other treatments used for the treatment of varicose veins and venous reflux disease. Since no incisions are required and no thermal energy is administered, there is less chance of nerve injuries, less chance of numbness of the leg skin, less chance of infection, and high patient satisfaction.
What Medication is Administered Through the Clarivein Device?
There are 2 common medications that are delivered through the device during the treatment. Our vein specialist will determine which of the 2 medications is better suited for your situation. Both of these medications are FDA-approved for the treatment of leg vein disease. These medications are referred to as sclerosants and are manufactures by pharmaceutical companies for vein treatments. One of the medications is called Polidocanol and the other is called Sotradecol.
How Do I Find Out if I Am a Candidate For The Clarivein Procedure?
Contact Austin Vein Specialists for a no-obligation consultation with our physician. Dr. Gotvald will examine your leg and likely recommend a vein ultrasound to assess your varicose veins further. If your vein anatomy makes the Clarivein treatment a good option for you, our physician will go over the procedure with you in detail.
Is the Clarivein Procedure Covered By My Health Insurance?
The answer is typical "Yes." If our vein specialist determines that you have symptomatic varicose veins that would respond well to this particular treatment, then we would submit to your insurance to request authorization for this procedure. Most insurance companies will cover the treatment if your physician determines that it is a good treatment option for you.