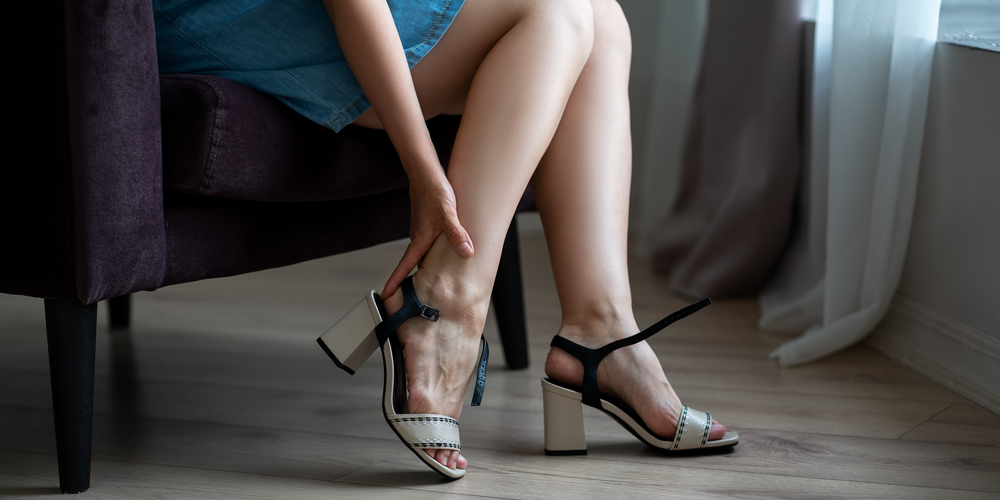 Vein Injections of the Legs
Vein Injection therapy refers to the introduction of a solution into the lumen of abnormal veins to cause the vein walls to occlude and the veins to fade and disappear. This is a very effective treatment that is used in our vein clinic to remove abnormal spider veins and varicose veins of the legs. It is used to both cosmetically remove unsightly veins, but also used for therapeutic purposes to treat defective veins which are causing poor circulation and skin problems. It can be used to treat a variety of vein sizes, from very small spider veins to larger reticular veins or varicose veins. Vein injections are a proven safe treatment that has been used successfully by doctors since the 1920s with obvious improved efficacy and safety as technology and pharmaceuticals have improved. The main advances with regards to this specific vein treatment have been the introduction of safer sclerotherapy medications that have fewer side effects, modern medications that do not burn, sting, or cause pain as they are injected, and infrared light technology that allows for better visualization of the veins for more precise injections. The needles that are used have also gotten extremely small, where it feels like a minor ant bite at the insertion site.
What Types of Veins Can Be Treated with Vein Injection Therapy?
Vein injections are a proven safe treatment that can be used to effectively treat spider veins, reticular veins, or even larger varicose veins. Our physician will individualize your vein treatment session based on the types of veins that you have, the underlying cause, and based on how large or numerous the veins. The type of sclerotherapy medication and the concentration of the medication that is used is customized based on your particular vein pattern and distribution.
How is this vein treatment performed?
The sclerotherapy vein solution is introduced into the vein with a very small micro-needle (smaller than an acupuncture needle) that is inserted inside the vein under magnification. As the solution is slowly injected, it "displaces" the blood within the blood vessel itself. As the solution comes in contact with the internal lining of the vein wall, it sets up a chemical reaction at the cellular level that caused the vein to die and scar shut. The abnormal veins then gradually fade and disappear after the vein injections are completed.
What Specific Medications are Used?
Some of the most commonly used sclerotherapy solutions for vein injections are Polidocanol (e.g. Asclera), Sodium Tetradecyl Sulfate (i.e. STS or Sotradecol), Hypertonic Saline, Glycerine, Sodium Morrhuate, Sclerodex, and Varithena. The medications will either be administered as a clear water-consistency solution or possibly formulated as a foam solution (similar to shaving cream). The vein specialists at our vein center will determine which type of sclerotherapy medication is most likely to get you the desired cosmetic results based on the appearance and distribution of your veins.
At Austin Varicose Vein & Spider Vein Specialists, our preferred vein solutions are Polidocanol because of the good cosmetic results and minimum risk of side effects. In addition, Polidocanol has an "anesthetic" quality, making the treatment almost painless (unlike many of the other sclerotherapy solutions which can cause significant burning and stinging upon injection). A new version of uniquely formulated Polidocanol, which goes by the trade name of Varithena, is FDA approved for use in the treatment of larger varicose veins. Our Vein Specialist will choose the most appropriate sclerotherapy solutions based on your particular vein condition.
What Kind of Results Can Be Expected?
Vein Injection therapy is very effective for most patients. One can typically expect a 70-80% fading and resolution of the treated veins, although more than one treatment session may be required. The more abnormal veins that are present within or under the skin, the more treatments that will be required to get the desired result. Individual results will vary. If the doctor is not satisfied with the initial response to a vein injection session, often a higher concentration of the sclerotherapy medication or a different medication is used on subsequent treatments.
How Long Does the Treatment Take?
A typical treatment session lasts approximately 30 minutes, but sometimes up to an hour of treatment is required for more extensive veins. It is not unusual to require more than one treatment session to get the desired results, particularly for more extensive leg veins. Our Vein Specialist will give you an estimate of the treatment length and the number of treatments required after examining your legs.
Why Choose Austin Varicose Vein & Spider Vein Specialists?
Our name says it all. When you are seeking out vein treatments, the most important aspect of choosing a vein center is the level of training and experience of the physicians and staff. At Austin Varicose Vein & Spider Vein Specialists, our physician is a board-certified Vein Specialist and Vascular Surgeon with over 17 years of medical experience. He performed a dedicated residency and fellowship in Vascular & Vein Diseases in which he focused on the most modern cosmetic vein treatments. He performed his surgical training in Vein Diseases at the prestigious Baylor University Medical Center and Baylor Heart and Vascular Hospital. Dr. Gotvald has performed thousands of vein treatments. And every patient that walks into our vein center is evaluated and treated by Dr. Gotvald one-on-one.
Many "vein clinics" or "vein spas" in the United States are managed by physicians who have no formal university training in vein treatments and actually never did a residency or fellowship in vascular & vein diseases and their treatments. Many of these clinics are managed by radiologists, family practice physicians, thoracic / chest surgeons, cardiologists (heart doctors), plastic surgeons, or dermatologists rather than a board-certified Vein Specialist. Some of these clinics are also run by nurses or medical assistants. Many of these medical offices perform vein injections as one of many different service lines, without a specific focus on vein treatments. And often these clinics and spas are not equipped or capable of treating underlying causative vein conditions, such as venous reflux or venous insufficiency . . . these conditions often require specialized catheter-based therapies to effectively cure the problem. If these underlying problems are not addressed, it is much more likely that the other therapies will fail and that the veins will not resolve, or that the veins will recur.
What sets Austin Vein Specialists apart is that our practice is focused on cosmetic treatments of varicose veins & spider veins, that all of our treatments are performed by our physician (not nurses or medical assistants), and that our physician has had formal fellowship training in the most modern treatments of varicose & spider veins at a leading vascular medical center. Our Vein Center also has the ability to treat all vein problems, no matter how severe, as we offer all of the different vein therapies. Many clinics and spas offer only one specific vein therapy and try to apply it to all conditions; for example, only offering laser therapy or only offering injection sclerotherapy. Since our vein center can offer the full spectrum of advanced vein treatments for all vein conditions ranging from the most minor small spider veins to the most severe large varicose veins, we are the best resource for all patients with vein disease, no matter how minor or severe. It is for these reasons that physicians in the Austin community choose to refer their patients to our center and also why many health care providers who themselves have been diagnosed with vein conditions have chosen to come to Austin Vein Specialists to be treated.
We provide vein injections to patients throughout the greater Austin community, including the surrounding regions of Cedar Park, Lakeway, Pflugerville, Georgetown, and Round Rock, Texas. We are a major vein referral center for the Central Texas region.