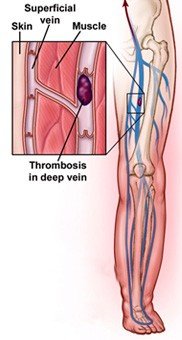 A common misconception about varicose vein treatment is that people who choose to undergo such a procedure do so purely for cosmetic reasons. While varicose veins are often treated for aesthetic purposes, they can also cause extreme discomfort, and may actually be a warning sign of a serious health condition.
Abnormal diseased or varicose veins in the legs can sometimes lead to venous thrombosis/blood clots.  Most commonly this is superficial venous thrombosis, but occasionally more serious deep venous thrombosis can occur. Deep vein thrombosis typically occurs in the legs but can happen in any deep vein in the body. People who travel long distances in airplanes and cars are often at risk for developing deep vein thrombosis due to lack of movement. Remember to take breaks to move around and maintain circulation in the body if you are sedentary for long stretches.  Watch for any symptoms and if you suspect you may be at risk, check with a vein specialist to see if you might be a candidate for varicose vein treatment.
Similarly, poor circulation can lead to a risk of developing postphlebitic syndrome, caused by damage to your veins from blood clots. Symptoms include leg swelling, skin discoloration, and skin sores.
Stasis dermatitis is a discoloration of the skin that appears on the legs and ankles, which can result from the exact same causes as the former conditions.  Stasis dermatitis can also be a symptom of underlying diabetes, which can lead to extreme health issues if not treated early on and if health and lifestyle changes aren't implemented.
Would you like to schedule an appointment to have your leg's veins checked? Contact Austin Vein Specialists at 512-220-5401. Their leg vein clinics are located throughout the greater Austin area, and they are happy to offer a free consultation to discuss the many options available for varicose vein treatment.