Sclerotherapy is a very safe and effective method for the removal of abnormal skin veins, referred to as spider veins. Spider veins are small defective veins or burst capillaries in the skin that have a red or purple color. These veins are typically thread-sized or slightly larger, usually < 1 mm in diameter. They typically form in clusters that often appear to look like spider webs, hence the name. They most commonly form on the legs but can occur anywhere on the body, including on the face and nose. Spider veins tend to increase in number over time. They are sometimes referred to medically as telangiectasias. Sclerotherapy Austin TX: our vein facilities provide this treatment to remove these unsightly spider veins.
Spider veins are not of a medical concern. Rather, they tend to be rather harmless and benign. Occasionally they can cause focal discomfort in the skin. But usually, they are not symptomatic. Most people seek removal of the veins for cosmetic reasons, as they do not like the abnormal appearance of their skin.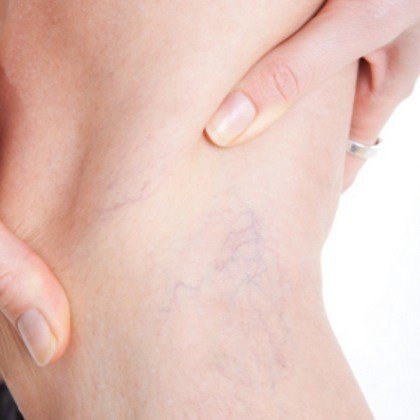 Sclerotherapy Austin TX Treatment Centers
Our vein centers in Austin TX offer sclerotherapy treatments for spider veins of the legs and body. Sclerotherapy is felt to be one of the most effective spider vein removal therapies available. The treatments take approximately 30 minutes and are associated with very little discomfort. Our center has performed many thousands of sclerotherapy treatments with excellent patient satisfaction scores. The therapy is considered very safe. We utilize only FDA-approved medications, including Asclera and Sotradecol.
Description of Sclerotherapy Procedure
Sclerotherapy treatments utilize a very small syringe containing a small quantity of medication, referred to as a sclerosant.  A tiny micro-needle (smaller than an acupuncture needle) is inserted into the lumen of the small spider veins under magnification using magnifying glasses.  After confirming the appropriate position of the needle, the medication is slowly injected into the abnormal veins.  The medication causes an immediate reaction within the vein wall that causes the spider veins to die, close, and fade away.  The newest sclerotherapy medications have a numbing quality to them, so the treatments are somewhat painless.  There is a very small "pinch" in the skin as the needle is inserted (similar to an ant bite).  Since the needle that is utilized is so small, the treatments are very well tolerated.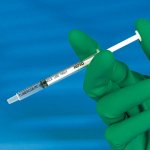 Interested in Sclerotherapy Treatments?
If you are interested, please call one of our vein centers. We have locations that are convenient to residents of Austin, Round Rock, Cedar Park, and the surrounding suburbs of Central Texas. Sclerotherapy Austin TX!