What is a Vein Specialist?
A vein specialists is a physician that specializes in the management of circulation diseases of the blood vessels.  The most common conditions managed by a vein doctor are varicose veins, spider veins, and blood clots.  Vein specialists are also referred to as a vascular surgeons, as they have completed a residency and fellowship training program that focuses on surgical and interventional management of vascular and vein diseases.  "Vascular" is the medical term that refers to blood vessels.  Blood vessels are composed of arteries, veins, and capillaries.  A vein specialist is an expert in managing the diseases that affect all these blood vessel.  So a vein specialists is also often referred to as a vascular specialist.  Vein Specialists Round Rock Texas are a group of medical professionals with the highest level of phlebology training and experience in treating vein diseases.  Although we do focus on the treatment of varicose veins and spider veins, we also treat more serious vein conditions as well.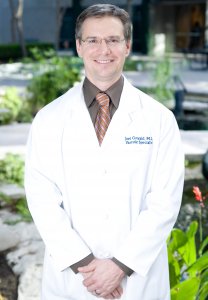 Why Choose Our Vein Specialists in Round Rock?
There are many reasons that Austin Vein Specialists of Round Rock is considered to be the premier Vein Center in the Williamson County region.   Our Vein Center is managed by only board-certified Vein & Vascular Physicians.  Our Vein Specialists received their medical university training at the leading medical centers in Houston & Dallas.   This includes completion of both a vein surgery residency program as well as a vascular surgery fellowship program.  The physicians of our center are recognized as leaders in vascular & vein surgery by the American Board of Surgery (ABS), the American College of Surgeons (ACS), and the Society For Vascular Surgery (SVS).
Our vein physicians have safely performed many thousands of vein treatments.  We have unrivaled patient satisfaction awards with 5-star rating.  We have consistently been awarded "Top Doctor" awards by Texas Monthly magazine, Austin Monthly magazine, Healthgrades.com, Heathtap.com, and Castle Connolly.   Our vein surgeons are listed in the US News & World Reports list of top vascular surgeons in the nation.
When seen at our Vein Centers in Round Rock and Austin, you will always be seen and treated one-on-one by one of our certified physicians or physician assistants at all of your visits.  We pride ourselves on all of our patients receiving the highest level of satisfaction with their treatments.  Vein Specialists Round Rock are also distinguished members of the Texas Medical Association and the Travis County Medical Society.
Our Vein Specialists are available Monday-Friday for consultation.  We have office locations that serve Round Rock, Cedar Park, and Metro Austin.  You can reach us by phone at (512) 994-9108 or by using the "Contact Us" email link on this page.  We do offer a free initial consultation for evaluation of varicose veins or spider veins of the legs!