Vein Physician Assistant Austin Texas
Our Vein Physician Assistant, Katey Mankus, joined Austin Vein Specialists due to her desire to serve the local medical community by providing exceptional vein care.   She enjoys evaluating and managing the entire spectrum of vein diseases, ranging from cosmetic vein therapies to more serious medical venous conditions such as vein blood clots and May-Thurner Syndrome.
During her medical training, PA Mankus completed clinical rotations in 12 different medical specialities.  But it was her time during her vascular surgery rotation that she decided that the field of circulatory disease management is where she would achieve great satisfacation and be able to thrive.  She therefore decided to become a Vein Physician Assistant.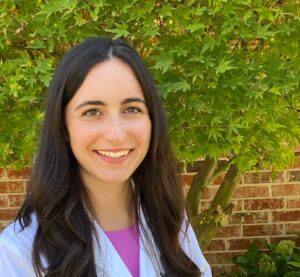 Katey's passion for medicine stems from a love of human physiology paired with a passion for patient education.  She believes the best medical care is offerred when providers listen attentively to their patients and when decisions are made as a team.  "It is important for me to earn my patient's trust," states Katey.
Katey is no stranger to Austin, as she completed her Bachelors Degree in Honors Nutritional Science from UT Austin in 2016.  She recently returned to Austin from the Dallas / Fort Worth area afer completing medical education courses there.   After her Bachelors Degree she obtained medical experience in Colorado through her work as a medical assistant (MA).  She later went on to earn her Masters Degree in Physician Assistant Studies from the Univeristy of North Texas Health Science Center in Fort Worth.
PA Mankus is committed to medical education and her particular field, being a member of Pi Alpha Honor Society and the American Academy of Physician Assistants.  She has been committed to serving her community through participation in various health initiatives such as free health screenings, diabetes education, and COVID-19 efforts.  Her main efforts at Austin Vein Specialists involve education her patients on vascular and vein disease to ensure that they understand not only the cause of their condition but also the best methods of disease evaluation, managment, and future prevention.   She spends all the necessary time to listen to patients' concerns and to throughly explain various treatment options.
Outside of her career, Katey is happiest when cooking for family and friends, supporting local restaurants, swimming laps, and biking with her husband who is a Texas A&M Aggie.