News updates on the Latest Advances in Vein Therapies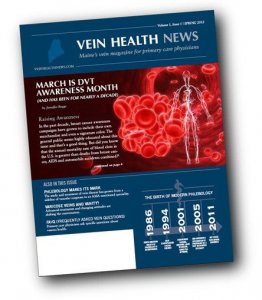 Welcome to the Austin Vein Specialists news feed! Here you will learn the latest vein news related to advancements in vein health. Our vein specialists
are dedicated to research and education related to the diagnosis and treatment of vein circulation conditions. Our team does monthly reviews of the ongoing research related to the diagnosis and management of vein conditions. This is done through review of nationally published vein journals, discussions with international experts on current vein research, and regular attendance of national meetings where published data on recent vein studies is presented. We then compile the data and apply it appropriately to our everyday clinical practice. We present the most pertinent data as it relates to clinical medicine here.
We keep the public up-to-date on the current vein news as it relates to public health by regular publications on our vein website. This includes news related to the most modern applications of vein diagnosis and treatment. We continue to monitor the progress of technology as it related to vein laser, vein ultrasound, vein surgery, vein radiofrequency treatments, vein imaging, and Ohmic thermolysis therapy. When advances in vein diagnosis and treatment occur, we publish the information here on our news feed.
Since Austin Vein Specialists is committed to the best possible clinical and cosmetic results, we apply the new information to our everyday care of patients. The clinical application is often related to advances in minimally-invasive vein treatments and higher quality vein imaging. We only utilize methods that have been proven to be safe and that are accepted as standard therapy by the FDA. This has allowed our vein center to maintain exceptional outcomes when compared to national and international vein and vascular registries.
To review the latest vein news as related to vein health issues, please scroll our posts by clicking "News" at the top of the home page of our website. For a one-on-one visit with our vein specialists to discuss your individual condition, please call our vein center at (512) 220-5401.