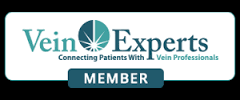 A vein expert is a physician specialist whose education and training directly focuses on the management of circulation diseases involving the venous system. In the United States, the medical education pathway that allows physicians to pursue this specialty involves residency and fellowship training in the field of Vascular Surgery. Vascular Surgeons are the only specialty trained physicians who dedicate their education and careers to the focused management of vein disease.
 They are therefore considered the "vein experts" of the medical community.  A typical vascular surgeon has completed 4 years of medical school as well as 7 years of residency and fellowship training in order to be classified as a vein expert. It is therefore important to verify that your vein expert is a board-certified vascular surgeon.  The American Board of Medical Specialties (the accepted standard for recognizing physician specialties in the USA) considers Vascular Surgeons to be the only specialty that qualifies for vein expert certification.  In order to determine if your physician is a board-certified vascular surgeon, you can visit the Society for Vascular Surgery website.
Why Austin Vein Specialists?
Austin Vein Specialists is the center of excellence of Central Texas for the management of vein diseases. Dr. Gotvald, our founder and the director of our Vein Centers in Austin and Round Rock Texas, has been a medical doctor (MD) for over 23 years and has vast experience in vein disease management. He is board-certified Vascular Surgeon and is a Fellow of the American College of Surgeons (FACS), the highest honorary achievable by a vein surgeon. He has additional training and certification as a Phlebologist, recognized by the American Board of Venous and Lymphatic Medicine.  Dr. Gotvald supervises patient care for every patient in our vein centers and has personally treated many thousands of patients with vein diseases, including dozens of healthcare workers in the central Texas area.
Our vein clinic staff are required to maintain the highest level of training and certification that can be achieved as a vein center of excellence. Our physicians maintain the national RPVI credential (Registered Physician in Vascular Interpretation) and our vein ultrasound technicians maintain the national RVT credential (Registered Vascular Technologists).  Dr. Gotvald has  certification in General Vascular Surgery by the American Board of Surgery, Phlebology by the American Board of Venous & Lymphatic Medicine, Vascular Surgery by the Society of Vascular Surgery,  and is a Fellow of the American College of Surgeons.  He is one the few physicians in the United States to have all of these certifications, allowing him to be qualified as one of the world's leading expert in the field of vein disease management.
Our vein specialist has unparalleled experience, practicing as a physician for 23 years.  Dr. Gotvald has performed many thousands of vein procedures and is trained in all of the latest modern interventional therapies.   He has been repeatedly recognized as a "Top Doctor" in his field by Texas Monthly and Austin Monthly.   He has received the "Patient Experience Award" by HealthGrades.com, who has awarded Dr. Gotvald with a 5-star rating.
Contact Our Vein Experts
We have been proudly serving the Central Texas region for over a decade.  We have clinic locations in Austin and Round Rock Texas.  We offer a free initial consultation for evaluation of leg vein disease.  Contact at (512) 220-5401 to arrange your physician consultation.  You can also request an appointment though our Contact Us link on this page.