Spider veins and their treatment are one of the main focuses of our vein centers. We provide all of the latest effective treatments for spider veins of the body, no matter where they are located. Although spider veins are most commonly located on the legs as a result of the gravity effect, they can also be found on the face, feet, hands, trunk, neck, and back.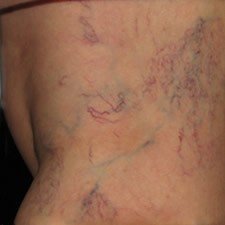 The definition is that spider veins are a confluence of permanently dilated intra-dermal veins of less than 1 mm in diameter. They are also called by the medical term telangiectasias. They are referred to as "spider veins" due to the fact that as they cluster together they can often take on the appearance of spider webs within the skin. These clusters of enlarged capillaries in the skin are most often just a dermatological condition of cosmetic concern, although they can sometimes indicate a more significant underlying vein disorder. The likelihood of an underlying circulatory disorder of the body causing the spider veins is more likely if the veins are associated with symptoms such as pain or swelling or when the veins are located in very large focused clusters.
How are spider veins treated?
There are two treatments available: utilizing heat/laser to close the veins or using a chemical reaction induced by medication to close the veins. Which one is used depends on the location of the veins.
Spider veins on the legs are usually treated by a procedure called sclerotherapy in which a medication is injected into the abnormal veins using small micro-needles that are inserted into the veins under magnification. The medication makes the veins fade away through a chemical reaction that induces vein closure. Some refer to this as endovenous chemical ablation of the veins. This type of treatment is the most effective treatment for treating multiple spider vein clusters on the legs.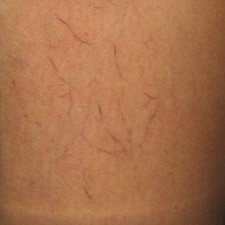 When spider veins are located in other locations such as the face or feet, heat energy is typically utilized for treatment. A laser or Ohmic thermolysis device is used to deliver heat energy to the skin and the veins within the skin, causing a heat-induced vein reaction that causes the veins to fade away. This type of treatment can also be applied to some smaller clusters of spider veins on the legs when they are not too extensive.
Are our spider vein treatments effective?
Yes, the treatments for spider veins are effective. Although individual results will obviously vary based on the number, size, and extent of the veins, we typically see that our patients will experience resolution and fading of the majority of their spider veins with the appropriate treatments.
What unique vein treatment techniques do Austin Vein Specialists provide?
Our vein specialist has been performing vein interventions since completing his medical school in 1996. He is continuously studying the latest vein methods and techniques and attends national vein meetings on an annual basis to stay current on the latest technologies and methods. Some of the unique features of our vein center are the following:
The use of high-powered magnification lenses to more effectively examine and treat your very small veins.
The use of ultrasound-guided technology with the newest ultrasound machines, such as the Philips HD11 XE.
The use of infra-red lighting during both treatment and examination, utilizing the newest AccuVein device.
Utilization of the Syris V600 optical illumination device that allows for precise & targeted vein therapy.
Utilization of the most advanced and safest sclerotherapy medications on the market, such as polidocanol.
Advanced training of our technicians, which are required to have an RVT credential (Registered Vascular Technologist)
Our vein MD has the highest level of certification available for vein specialists, being a board-certified vascular surgeon & vein specialist, having an RPVI credential, and also having the honor of FACS accreditation.
Lastly, Unlike many other vein clinics or spas, at our Center of Excellence, only board-certified vein physicians perform 100% of our treatments. We do not utilize physician assistants, nurses, technicians, or aestheticians. Our physician will always see you one-on-one and personally perform your therapy.
Can I be permanently cured of spider veins forever?
Unfortunately, the answer to this question is often no. Spider veins are a disorder of the skin or dermis that will often continue to develop even after the current abnormal veins successfully resolve with treatment. The typical patient with spider veins will notice that over the years following their treatment that they will continue to form new spider veins in new locations on their legs. For this reason, patients with spider veins may return years later with new spider veins for which they desire further treatment. These maintenance treatments are similar to the initial treatments and will involve either sclerotherapy, laser therapy, or Ohmic thermolysis treatment.
To decrease the chances of new spider veins forming quickly, any underlying defective veins that are adjacent to the spider veins, such as varicose veins or reticular veins, should be addressed as well. There are often other preventative methods that could be discussed with you. Our vein specialist will examine your legs and determine the best treatment plan for you based on your individual condition.