We specialize in modern vein technology designed to to help your legs look your best. Do you have visible unsightly veins on your legs? Austin Varicosee Vein & Spider Vein Specialists can help you to restore the natural beauty of your legs so that you can look as young as you feel.
There are many reasons to treat leg vein diseases, ranging from severe circulatory disorders and blood clots that mandate treatment to elective outpatient cosmetic interventions for aesthetic reasons. Our vein doctor is an expert in treating all forms of blood vessel and vein conditions, but the focus of Austin Vein Specialists is the cosmetic treatment of varicose veins and spider veins of the legs. We concentrate on the utilization of the latest vein technologies and most current aesthetic therapies, with our goal to achieve exceptional cosmetic results and outstanding patient satisfaction.
At our leg vein center in Austin, our board-certified Vein Specialist is the most qualified to treat your vein condition as a result of his qualifications, expertise, and interest in providing the best quality cosmetic vein treatments available. Unlike many other medical clinics and spas that perform vein therapies as one of many service lines, Austin Vein Specialists focuses exclusively on the treatment of vascular & vein conditions.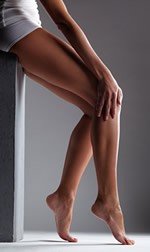 Our physician, Joel Gotvald, MD, FACS, RPVI, is a board-certified Vascular & Vein Specialist whose entire practice concentrates on the diagnosis and treatment of circulatory conditions and vein diseases. His primary interest in establishing Austin Vein Specialists was to provide the Austin Medical Community with a Center of Excellence for the Cosmetic Treatment of Varicose Veins & Spider Veins.
Our Vein Center is located in Austin and proudly provides laser vein therapy to patients in the local communities of Austin, Cedar Park, Lakeway, Pflugerville, Round Rock. Our leg vein center utilizes the latest technologies to optimize the results of your laser vein treatments. Some such modern vein technology is the VeinViewer™ Vision device and the Syris Scientific Visual enhancement system which allows our vein physicians to literally "see through" your skin (almost like superman's x-ray vision). This advanced vein technology is the first and only such device that utilizes harmless near-infrared light to project a detailed digital image of a patient's veins directly onto the surface of the skin in real-time. The unique Vein Viewer device allows our doctors to have a non-invasive method to identify all of your abnormal sub-surface skin veins in extreme detail, creating a literal "road map" of all of your varicose and spider veins.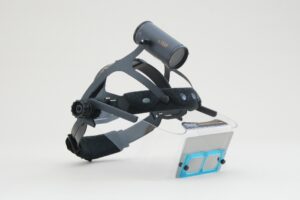 Many spider veins and varicose veins are caused by defective source veins further beneath the skin that are "feeding" the surface veins with abnormal high pressure blood flow. It is critical to be able to visualize these underlying veins in order to precisely deliver effective treatment to these veins. With our experienced staff utilizing the advanced modern vein technology of the Vein Viewer™, we are able to visualize all of these veins in great detail. This amazing technology allows for the application of the most precise vein treatments ever available. See the VeinViewer™ video demonstration below:
We utilize the the most modern scientifically formulated sclerotherapy medications, such as Asclera or Polidocanol. The benefit of these newer FDA approved medications is that they are associated with superior cosmetic results, less discomfort during vein injections, and fewer risks of side effects. Polidocanol is formulated to not only effectively elimate veins, but it also has a numbing anesthetic quality. Therefore there is no burning or stinging associated with the injection of the medication. And since we also utilize the smallest possible micro-needles for injections, there is very little discomfort associated with the injections (literally just a small ant "bite" sensation at each injections site).
The goal of cosmetic and laser vein therapy at our Austin vein center is to provide the best possible aesthetic result with the least invasive and safest methods possible. Our focus is to restore the beauty of your legs back to their natural youthful appearance while at the same time minimizing the recovery time required. By utilizing the most current methods of venous plastic surgery and aesthetic vein treatments, we pride ourselves on achieving the best cosmetic results available. Laser therapies, ultrasound-based treatments, venous sclerotherapy and the VeinGogh / Veinwave surface thermolysis system are our areas of expertise. The vast majority of the patients that we evaluate are candidates for one or more of these modern vein  technology methods.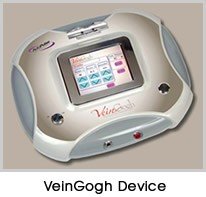 The newest FDA approved device for the cosmetic treatment of spider veins of the legs, nose, and face is the VeinGogh / Veinwave Ohmic Thermolysis system. This amazing new technology uses precisely directed pinpoint heat energy to remove spider veins effectively. The treatment is very safe and can be performed rather quickly and without any anesthesia. VeinGogh thermolysis is relatively painless, with much less discomfort compared to conventional surface lasers. It can be used as a substitute or adjuvant to injection sclerotherapy in the treatment of spider veins. Austin Vein Specialists is currently the only Vein Center in central Texas offering this exciting new technology. See the demonstration video below.
By utilizing these newest methods of laser vein therapy treatments, our Austin specialists strive to achieve the best possible cosmetic results possible and avoid the risks associated with surgical incisions and scarring. We continuously research modern vein technology and add new devices to our centers as they are developed.  Our vein specialist has performed thousands of modern cosmetic vein treatments, so you feel confident that when you come to our Austin Vein Center that you will be receiving the appropriate recommendations and best possible care.