What are Vein Specialists?
A vein specialist is a physician that has dedicated his or her entire career to the management of venous diseases. All vein doctors are not created equal. In order to be considered a true vein specialist, a physician must first complete medical school and then go onto a residency and fellowship that focuses on vein disease management. 

The residency and fellowship focuses on vascular and vein diseases and is referred to as a vascular surgery residency and fellowship. Once the physician completes the fellowship then they are referred to as a vascular surgeon, which is the highest level of vein training. A vascular surgeon has typically completed over one thousand vascular procedures by the time they complete their training process. In order to demonstrate their competency following the fellowship, the vascular surgeon gets board-certified by the American Board of Surgery (ABS) and then becomes a Fellow of the American College of Surgeons (FACS designation). Once obtaining this title of a board-certified Vascular Surgeon, the doctor can then also go on to achieve additional training through the American Board of Venous & Lymphatic Medicine (ABVLM). If they complete this additional certification in phlebology, then they become a diplomate of the ABVLM.  Our Cedar Park vein specialists are experts in vein disease management, having completed a residency and fellowship in vascular surgery and being board-certified through the American Board of Surgery and the American Board of Venous & Lymphatic Medicine.  Dr. Gotvald is a board-certified vascular surgeons and a phlebologist.
Board-Certified Cedar Park Vein Specialists, Texas
Austin Vein Specialists is the premier vein treatment center serving Austin, Round Rock, and Cedar Park Texas. Our Cedar Park vein treatment center  is located on the east side of Cedar Park, bordering Round Rock Texas. This vein center is managed by Dr. Gotvald, a board-certified vein specialist and vascular surgeon with over 15 years of experience. He completed a dedicated residency and fellowship in vein disease management at the leading medical centers in Houston and Dallas Texas.  We are locally owned and operated. Our vein specialists offer all of the latest state-of-the art therapies for varicose veins and spider veins of the legs, ankles, feet, face, and remainder of the body. Our Cedar Park vein specialists have safely performed many thousands of cosmetic vein procedures. We have been voted "Top Doctors" for vein treatment repeatedly by Texas Monthly and Austin Monthly magazines. We have unrivaled patient satisfaction scores.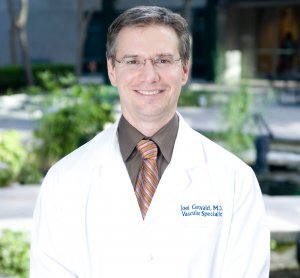 Cedar Park Vein Treatment Locations
When determining where to have you vein treatments performed, our Cedar Park vein specialists have your safety and compfort as their top priority. In the Cedar Park area we have a local outpatient Vein Clinic, which offers 2 exam rooms, a diagnostic ultrasound room, and a procedure suite. We also offer vein treatments at the local surgery centers in Cedar Park. But most of our patients prefer to have their treatments in the comfort of the vein center. Having procedures performed in the vein center helps to keep costs down, as hospitals and surgery centers tend to add additional costs. The benefit of surgery center availability is that is allows some vein procedures to be performed under deeper anesthesia when necessary and also offers a place for more prolonged recovery immediately after the procedure. Our physicians may recommend that some treatments be performed in a surgery center, especially for more severe forms of varicose vein disease. The available surgery centers include Cedar Park Surgery Center (owned by Arise) and Stonegate Surgery Center. For the most severe cases of venous disease, our vascular surgeons / vein surgeons have hospital staff privileges at Cedar Park Regional Medical Center. Our Cedar Park vein specialists will determine which treatments you will need and will make recommendations on where to have them performed.
Cosmetic & Medical Vein Treatments in Cedar Park Texas
Our Cedar Park vein specialists are experts in the management of venous diseases.  Common conditions that they manage include varicose veins and spider veins of the legs and body.  Cosmetic therapies are their main focus, specializing in removal of leg and body veins using laser therapy, radiofrequency therapy, VenaSeal vein glue, sclerotherapy, and venous plastic surgery.  They also experts in managing more serious venous conditions including blood clots, venous stasis ulcers, phlebitis, deep venous thrombosis (DVT),  and leg swelling / leg pain that results from venous diseases.  They specialize in the management of venous reflux disease or chronic venous insufficiency.
Contact Our Cedar Park Vein Specialists
To arrange a consultation with our board-certified vein specialists, call (512) 994-9108.  We offer consultations for evaluation of varicose veins or spider veins of the legs. We accept Medicare and most private insurance plans.