Austin Vein Specialists:  Round Rock, Texas Location
7700 Cat Hollow Dr
Round Rock, Texas, 78705
Phone: (512) 994-9108
Round Rock Vein Doctors. Looking for a varicose vein and spider vein treatment center near Round Rock, Texas? Look no further. Austin Vein Specialists, which has 2 locations, one located in North Austin and Round Rock Texas, is the closest vein center for residents of Round Rock, TX and the surrounding region. We provide cosmetic vein treatments ranging from sclerotherapy for spider veins to laser therapy for varicose veins.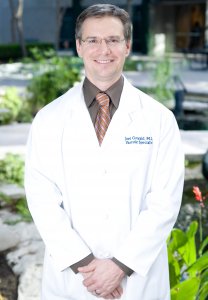 Our board-certified Round Rock Vein Specialists have been serving the Round Rock Texas community for years. Dr. Gotvald is an expert in the evaluation and treatment of varicose veins and spider veins of the legs. He always sees his patients one-on-one and has top patient satisfaction ratings.
Just a short drive for Round Rock residents, our vein centers are conveniently located: one off of North Mopac Expwy near Palmer lane and the other off Hwy 620 in central Round Rock
If you live in Round Rock, TX, then the closes location is the one on Cat Hollow Drive, just a few minutes from your home.  With the tollways, you can arrive at our other North Austin center within 10-15 minutes of leaving your home in Round Rock. We are open Monday through Friday and typically can work you into our schedule quickly. We not only provide treatments, but we also offer diagnostic studies such as ultrasounds of the leg veins if needed. Initial consultation for leg varicose or spider veins are complimentary.
For more information, contact Austin Vein Specialists at (512) 220-5401 or (512) 994-9108.
#Round Rock Varicose Spider Vein Doctors