Looking for Sclerotherapy near Austin, TX? Austin Vein Specialists, a leader in cosmetic vein treatments for Austin, Texas, and the surrounding areas are offering the latest sclerotherapy technology for the treatment of spider veins and varicose veins. We can help you look your best!
A newly FDA-approved medication known as Asclera or polidocanol now allows for nearly painless injection procedures for the treatment of unsightly or painful leg veins. The procedure, known as sclerotherapy or foam sclerotherapy, involves using a micro-needle, smaller than an acupuncture needle, to inject medication into the veins. Following injections, the veins gradually fade away. Since the newer medications no longer burn, sting, or cause any pain when they are injected, the procedures are now much easier to go through. Asclera has an anesthetic quality to it that actually makes the procedure nearly painless. Patients are now much more comfortable undergoing vein treatments than in the past.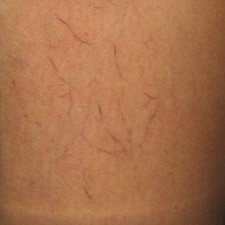 Spider Veins Before Treatment
After Spider Vein Sclerotherapy
At Austin Vein Specialists we offer not only traditional sclerotherapy, but also foam sclerotherapy which can be more effective in many circumstances. Foam sclerotherapy involves altering the consistency of the sclerotherapy medication so that it "sticks" to the vein walls more effectively and therefore increases the effectiveness of the medication's function. The consistency of foam is more like that of shaving cream rather than traditional sclerotherapy solutions which are like water consistency.
At Austin Vein Specialists we also utilize special magnification lenses and infrared lighting known as a Syris light to be able to "see-through" the skin and therefore perform the injections more precisely in small spider veins. For the larger varicose veins, we utilize high-powered focused skin lighting manufactured by VEINLITE to help see through the skin for a more detailed evaluation of the underlying "feeder" veins that lay beneath the skin.
Contact Austin Vein Specialists to have your vein condition evaluated by our vein specialists and to see how our newer sclerotherapy methods offer improved cosmetic results. We also offer all the latest modern laser treatments if our physicians determine that laser is a better option for your particular vein condition. Help us to restore the youthful appearance of your legs!
Contact us here or call 512-220-5401 today!