The Cedar Park, TX VeinGogh/Veinwave treatment for spider veins offers the state of the art treatment to our patients for spider veins on the legs, nose, cheeks, and face area. By using the Ohmic Surface Thermolysis System, telangiectasia can be gotten rid of in one afternoon of treatments with no downtime and no recovery period.
The Ohmic Surface Thermolysis System uses technology that is known as thermocoagulation. A current of energy that is finely focused to only affect the targeted area sends out a high-frequency through a hair-thin probe. This tiny probe barely touches the surface of the skin. It sends out heat energy which causes the collapse of the thin walls of the veins. Once this is accomplished the webwork of red, blue, and purple veins that are visible just under the skin will disappear quickly. This process is nearly painless. The pain that it does send out is not much more than a slight pinching sensation similar to having a hair pulled out.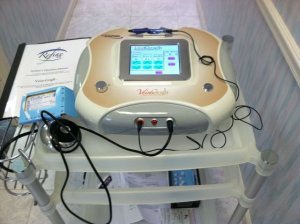 Cedar Park, TX Veingogh / Veinwave treatment for spider veins is a very safe, and effective way to permanently remove the spider veins from your legs, face, or nose. In one afternoon this simple process can take years off of your face and help to boost your self-confidence. You can come in on your lunchtime and 30 minutes later leave the office telangiectasia free without having to worry about noticeable bruising or bandaging when you go back to work. No one will be able to tell you had anything done except for the younger-looking face they will see.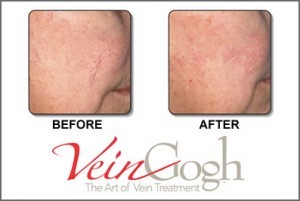 There are several triggers that can cause spider veins to become visible on your skin. Pregnancy, rosacea, hormone fluctuations, or just unlucky genetic can cause you to have telangiectasia regardless of your lifestyle. The most common cause of facial spider veins is having excess sun exposure to your face. The most common cause of spider veins on the skin of your legs is genetic predisposition.
Having excess sun exposure can cause the blood vessels to open and dilate simultaneously. This causes the vessels to weaken and that damages the collagen. This causes the veins to lose their ability to be invisible and reduce their size. They no longer can shrink down to the size that they normally are. This causes them to become visible to the naked eye.
The Cedar Park Veingogh / Veinwave treatment for spider veins is a quicker and less painful procedure than Sclerotherapy. Sclerotherapy is a good procedure for larger or numerous clusters of leg veins and veins that are deeper in the skin. This procedure uses a needle that is inserted into the skin and then injects medication that has an anti-inflammatory effect on the veins. Face and nose veins are smaller and have thin walls that don't require this extreme of measures.
Getting rid of skin spider veins is a simple procedure that is quick and practically pain-free. Don't fall for all of the creams and solutions that are on the market today. Their claims of finding a cure for spider veins is just a way to get you to spend your money, with no proven scientific data that they actually work. The Cedar Park Veingogh Veinwave treatment for facial veins is one of the best choices for permanently erasing your spider veins.
Schedule your free, no-obligation consultation today. Contact us here or call 512-220-5401 today.