Austin Vein Specialists is a medical practice that was established by leading Texas Vein Doctors over 10 years ago. We are locally owned and operated by physicians in Austin Texas. We pride ourselves on being organized and supervised by board-certified Vein Specialists and Vascular Surgeons that are residency and fellowship trained in the field of Vascular Surgery. This is unique to most of the local medical clinics and spas that advertise themselves as "vein clinics", as most of these facilities are not run by board-certified vascular surgeons. In fact, the majority of these other facilities do not have a single individual with residency or fellowship training in Vascular Surgery. The level of education and training of our doctors in vein diseases translates into improved safety and better outcomes. Our skilled professionals have the reputation of being the best in their field. We have received repetitive top doctor awards in Texas, including for 2021.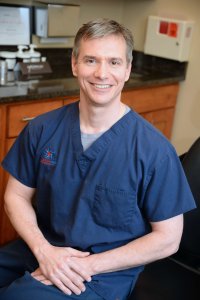 Dr. Joel Gotvald, one of our leading vein doctors, received his residency and fellowship training in Vascular Surgery at the leading medical centers in Houston and Dallas Texas. He has 24 years of exerience as a physician and has performed over 10,000 vascular procedures during his career. He is considered one of the world leaders in vein disease management, as he is one of the few Vein Specialists in the USA to have 3 separate board certifications related to vein disease managmenet, being board-certified in the fields of Vascular Surgery (American Board of Surgery), General Surgery (American Board of Surgery), and Phlebology (American Board of Venous and Lymphatic Medicine). He has been recognized as a top vein specialist for Texas by Texas Monthly Magazine, Austin Monthly Magazine, and Castle Connolly Medical.
Our vein doctors are required to be board-certified, vein ultrasound and vascular imaging certified, and are also required to have active staff priveleges at local hospitals in Austin. Dr. Gotvald has been director of a nationally accredited Vascular and Vein ultrasound lab for many years. He has also been the lead Vascular Surgeon at St. David's North Austin Medical Center for the past 10 years, heading the Vascular Surgery and Endovascular Surgery program for the hospital. He also has priveleges at the Ascension Seton Hospitals, Dell Medical Center, and the Heart Hospital of Austin.
Voted Top Vein Doctors Austin 2021
Our Vein Doctors Austin were recognized in the 2021 Super Doctors List of Top Doctors in Texas Monthly and Top Doctors List in Austin Monthly this year.  Our Top Doctor designation was specific to the field of Vein Diseases and Vascular Surgery and is a very distinguished honor. The nominations and determination of Top Doctor status is determined by a combination of peer nomination as well as based on background education, training, and physician experience. Castle Connolly Medical heads the selection process.  Dr. Gotvald has been voted Best Vein Doctor for mutliple sequential years.