Round Rock Laser Vein Treatment
Round Rock laser vein treatments is the focus of our Vein Center in Round Rock Texas. We have been performing laser vein treatments for more than 15 years. We do vein therapy on the legs, face, and skin throughout the body. We use specific vein lasers that deliver focused heat directly to diseased veins of the body, including varicose veins and spider veins.
Our Round Rock laser vein treatments are safe and effective. These therapies are performed for cosmetic reasons as well as to resolve circulation diseases in the legs that may be leading to pain, swelling, or restless leg symptoms. Our vein specialists are board-certified vascular specialists who have performed many thousands of cosmetic vein treatments. The Round Rock laser vein treatments are all performed in 30 minutes or less and involve very little discomfort.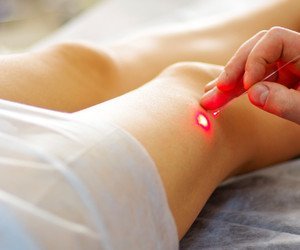 Round Rock Laser Vein Treatments for Varicose Veins of the Legs
Round Rock laser vein treatments can be performed to remove varicose veins of the legs. Varicose veins are blue bulging and often serpentine appearing veins that from within the skin or beneath the skin surface. Varicose veins are not only unsightly in appearance, but they often also lead to pain, swelling, and fatigue of the legs. Varicose veins of the legs often indicate a more serious circulation condition in the legs referred to as Venous Reflux Disease.
The laser vein treatment performed to treat and cure varicose veins is referred to as EVLT. EVLT stands for EndoVenous Laser Treatment. EVLT is performed using a special type of vein laser called a diode laser. The EVLT laser successfully closed the diseased veins in the leg by heating the abnormal veins shut. This is performed as an office procedure under local anesthesia with lidocaine / novacaine. The procedure has a 98% success rate and EVLT is very safe. Austin Vein Specialists are the leading local experts in the EVLT procedure. Dr. Gotvald has been performing EVLT for over 10 years.
Round Rock Laser Vein Treatment for Spider Veins
Spider veins can also be treated using laser. Vein lasers deliver focused heat to small thread-sized spider veins of the skin, which often occur as clusters of small red or purple veins on the face, legs, ankles, and feet. These spider veins are often referred to as telangiectasias.  Several treatments may be required to achieve the desired results.  Our vein specialists have over 15 years of experience in spider vein removal procedures.