The Venefit ™ procedure is one option for treating varicose veins. Through endovenous radiofrequency energy, offending veins are diminished, helping patients experience physical and cosmetic relief from varicose veins and chronic venous insufficiency. Formerly known as the VNUS closure procedure, Venefit™ is well-supported as an effective, safe, and relatively painless treatment for varicose veins. Let's take a look at this procedure in further detail.
How Does the Venefit Procedure Work?
Venefit™ is a quick and convenient outpatient procedure done in your physician's office. A small radiofrequency catheter is guided into and ablates the vein, closing it off immediately. The body then automatically and naturally reroutes blood to healthy veins. The entire procedure lasts approximately 30 minutes. The affected area is numbed during the process, which helps make the procedure fast and fairly painless. Patients can return to their normal daily activities and work the same day.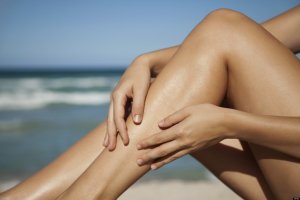 Is the Procedure Safe?
This procedure is very safe and well-researched. Currently, the leading treatment for vein disease, the radiofrequency temperature used is well-controlled to minimize pain and bruising. A comprehensive review of the patient's health history is an important discussion to help prevent any unexpected complications.
Do I Qualify?
Asymptomatic history of chronic venous insufficiency is an important factor in deciding if the Venefit™ procedure is right for you. If you have veins that itch, throb, burn, swell, ache, or your legs feel tired or heavy, you are likely a good candidate and will experience a noticeable improvement in symptoms after this procedure. The vast majority of patients experiencing marked symptoms of chronic venous insufficiency are candidates for this procedure.
Is the Procedure Effective?
Yes. The Venefit™ procedure has a 98% success rate and causes less bruising and post-procedure pain than other treatments. It is also currently the most common treatment in the United States for chronic venous insufficiency. Most symptoms resolve within the first few days after treatment, and cosmetic benefits are experienced as well.
Will my Health Insurance Cover the Procedure?
This procedure is covered by most insurance plans but you must meet certain criteria to qualify, including an ultrasound that verifies there is underlying venous insufficiency and reflux, along with a history of physical symptoms. Sometimes the patient is required to attempt preventative and palliative treatment before a health insurance provider will approve the Venefit™ procedure. This may include the use of compression stockings, diet changes, and/or exercise.
Venefit™ is an effective procedure to deal with varicose veins once and for all. If you want to learn more, contact us at (512) 220-5401.